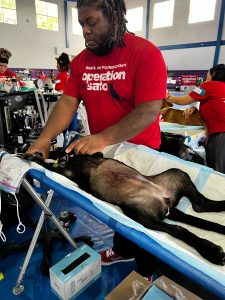 Operation Kindness' Community Initiatives team responded to the call for animal welfare aid in Puerto Rico during the week of November 1-6, 2023. The Texas-based animal welfare organization sent one surgeon and three vet techs to Gurabo, Puerto Rico, to assist in the spay and neutering, vaccination and microchipping of 1,222 dogs as part of the Bissell Pet Foundation's Operation SATO event.
Helping the Satos of Puerto Rico
The streets of Puerto Rico are home to approximately 500,000 stray dogs, or "satos," according to Bissell Pet Foundation. One pair of dogs can be responsible for 67,000 puppies over six years. Recognizing that spay/neuter is the only way to stop unwanted litters, Bissell Pet Foundation created the Operation SATO event, putting out the call for high-quality and high-volume vets and vet techs. Operation Kindness' surgeon, Dr. Kimberly Heinefield, and vet techs Bryce Harper, Brandy Gospodarek and Ally Thompson, flew to Gurabo to participate in the event.
"Any time we deploy our highly-skilled team, it is our goal to help pets in the greatest need," said Ed Jamison, CEO of Operation Kindness. "We're committed to helping reduce pet overpopulation through high-volume spay/neuter events that have a significant impact on the number of homeless pets. I'm happy to see our team was of great service to the pets and people in Puerto Rico."
Operation Kindness is proud to support our Community Initiatives team in their efforts to bring hope and healing to animals in need.
Stay up to date
Follow us on Facebook, Instagram and Twitter for the latest news.