In 1976, a group of 
volunteers
made a plan to have their vision realized – to create a lifesaving shelter for homeless animals
that had nowhere else to turn
. Their 
idea
was simple: show homeless pets kindness. 
For this passionate group of animal lovers, their goal was to provide shelter, medical care and food to homeless animals while working hard to find them loving homes.     
In the early days, Operation Kindness operated out of volunteers' homes.  In the summer of 1976, Operation Kindness acquired the use of a veterinary clinic located at 117 North Garland Avenue in Garland.  
By November 1988, Operation Kindness moved the shelter to a storefront location at 1029 Trend in Carrollton.  In 1999, we moved the shelter to 3201 Earhart Drive in Carrollton, where we remain.  
The shelter broke ground on the renovation and expansion of our adoption center and animal hospital in April 2018. Operation Kindness celebrated the grand opening of the Rees-Jones Foundation Medical Wing in March 2020 and the completion of the remainder of the facility in July 2021.
In July of 2022, Operation Kindness launched a new Community Initiatives program to impact more pets across Texas. The new program offers affordable, accessible veterinary services to under-resourced communities and shelters.
While the organization has evolved since 1976, we have always remained committed to giving every animal the care and kindness they deserve.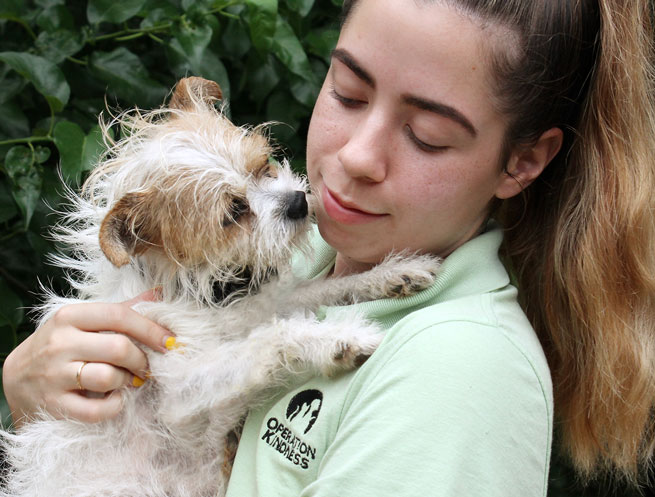 Our Lifesaving Philosophy
At Operation Kindness, we believe each animal deserves an excellent quality of life in a loving home. There are some circumstances where an animal does not have a positive quality of life and euthanasia may be the only humane option. We will not euthanize an animal for space or for a treatable medical condition. This is considered only after all viable treatment options have been exhausted. It is only considered as an act of mercy for animals who are suffering from an irredeemable medical condition or when behavioral challenges make them unable to be rehabilitated and adopted.
Scott Wilson, Chair
Haroon Alvi, Chair – Elect
Ron Burgert, Treasurer
Chad Tidwell, Secretary
Mary Mitchell, Immediate Past Chair
Curt Boisfontaine
Laura Calhoun
Robert Catalani
David Elmquist
Charles Gearing
Jim Gibson
Catherine Griffin, DVM
Michelle Ku
Joni McCoy
Kevin Ryan
Paul Wilson
Chief Community Initiatives Officer
Vice-President of Lifesaving Programs
Senior Director - Accounting
Senior Director - Human Resources
Senior Director - Development
Senior Director - Marketing & Communications
Veterinary Leadership Team
Operation Kindness is proud to consistently earn high rankings from independent charity evaluators, including Charity Navigator and Candid (GuideStar). Operation Kindness has earned the Charity Navigator 4-star rating signifying that we exceed industry standards and perform better than most charities in our cause.
We are committed to accountability and transparency while executing our mission in a financially efficient way.
Every day, the United States faces the challenge of how to tackle pet homelessness. It's a complex problem that requires the community to work together to reach the most animals in need. Operation Kindness is proud to serve as a transfer partner for more than 100 municipal shelters and rescue groups when they are low on space or have animals in need of lifesaving medical care.
Addison Animal Control
Altus Animal Control
Arlington Animal Services
Athens Animal Rescue Shelter
Azle Animal Control
Beeville Animal Shelter
Bell County Animal Control
Brazoria County Sheriff Department/Animal Control
Bridgeport Animal Shelter
Caddo Parish Animal Shelter
Carrollton Animal Control
Catsnip
City of Fort Worth Animal Care and Control
City of Tulsa Animal Welfare
Cleveland Animal Control
Collin County Animal Services
Commerce Humane Association
Coppell Animal Services
Corsicana Animal Services
Dallas Animal Services
Denton Animal Services
Farmers Branch Animal Control
Ferris Animal Control
Garland Animal Control
Gatesville Animal Control
Glen Rose Animal Control
Grand Prairie Animal Control
Haltom City Animal Services
Hood County Animal Control
Humane Society of Central Texas
Humane Society of North Texas
Humane Society of St. Thomas
Irving Animal Control
Jefferson Protection and Animal Welfare
Junction Animal Control
Kerr County Animal Services
Kingsville Animal Control
Lake Dallas Animal Shelter
Lancaster Animal Control
Lewisville Animal Control
Little Elm Animal Control
Louisiana SPCA
Mansfield Animal Control
Mesquite Animal Shelter
Mineral Wells Animal Shelter
Mission Animal Shelter
Montgomery County Animal Control
Parish Paws
Paws 4 Life
Plano Animal Services
Rainbow Journey Sanctuary
Recycled Rovers
Roweltt Animal Services
San Saba County Friends of Animals
SPCA of Texas
Sugar Land Animal Services
Tri City Animal Shelter & Adoption Center
Waxahachie Animal Control Center
Wilbarger Humane Society
Williamson County Regional Animal Shelter
We're honored to work with corporate partners who are dedicated to making an impact on pets in need. These companies stand with Operation Kindness, lending their voices and mobilizing their audiences to help raise funds and spread the word about our mission.