As we welcome the new year, we're taking a moment to reflect on 2021 and all the extraordinary things you made possible.  
Our community continues to face challenges brought on by COVID-19 and its long-lasting impact. But all of us at Operation Kindness – staff, volunteers, and supporters – remain committed to helping as many animals as possible in 2022.  
Reflecting on 2021
We're also celebrating some huge milestones from 2021 – including 4,643 pets entering our care, a 78% increase in spay/neuter surgeries over 2020, and record-breaking numbers of pets receiving foster care.  
Over the past several years, COVID-19 and shelter construction reduced our capacity to bring animals into our facility. However, with construction concluded and after fully reopening in July 2021, our ability to bring animals in increased significantly.  
In 2021, we made significant investments in our medical team, facility, and equipment. This is already paying huge dividends for helping vulnerable animals facing contagious illnesses or life-threatening injuries. We have also been able to extend medical services to our partners to ensure even more pets can get the care they need.  
Looking ahead to 2022
As the animal welfare landscape continues to shift, we're keeping our eyes on local and national trends.
> Support for homeless cats
Cats will be a critical part of the picture in 2022, as they enter shelters at twice the rate of dogs and are more likely to be euthanized. With your support, we'll be expanding our resources for cats this year, including a new neo-natal kitten nursery.  
> Continued assistance with disaster response
In late August 2021, we worked with rescue partners to move 77 homeless pets out of the path of Hurricane Ida. Working ahead of severe weather events creates much-needed space in shelters for animals that are lost and displaced during storms.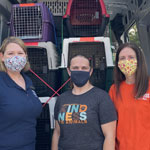 In 2022, our team will continue to work with rescue partners in hurricane-prone regions, including Louisiana and the Gulf Coast. We also stand ready to help with any local severe weather events, to coordinate response and assistance to pets in need.
> Keeping pets with families
Another priority area for this year will be resources to prevent animals from being surrendered to shelters. When we can support families to keep their pets, this reduces the burden on shelters and makes more lifesaving outcomes possible. Plus, it's a win-win for families to keep a beloved pet.  
> Sources of pet acquisition
Where families acquire pets will also be key in 2022. Shockingly, only 1 in 10 household pets were adopted from a shelter or animal welfare organization. To increase lifesaving, we're focused on reducing barriers to adoption by being more accessible and inclusive.  
We'll be sharing more updates with you throughout the year as we increase our impact on pets across Texas. Thank you for partnering with us to save the lives of homeless dogs and cats.