Volunteer applications are open for April. Get started below!
Volunteering at Operation Kindness is rewarding and makes a huge difference in the lives of animals. Caring and hard-working volunteers help in a variety of programs throughout the year.
Our volunteer program is an essential part of Operation Kindness. Volunteers are involved in all aspects of the organization and enable us to save even more lives.
By joining Operation Kindness' team of dedicated volunteers, you'll build strong relationships with other like-minded animal lovers, the community, and of course, the animals themselves. Working together, we can help match more pets with loving homes.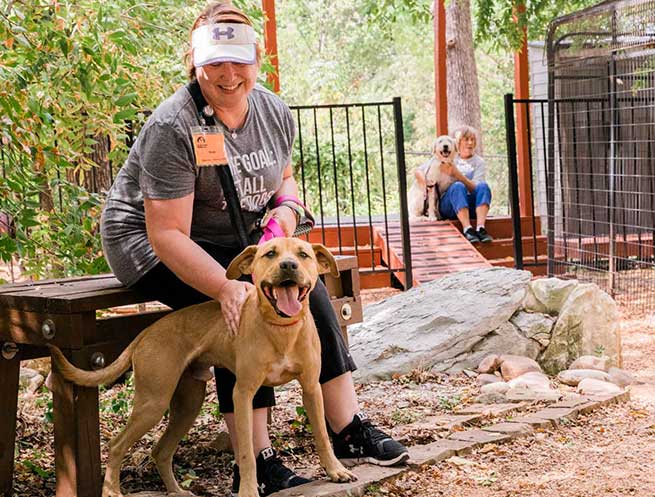 Find the option that's right for you.
Looking for individual volunteering? Follow the three steps below to get started.
Get started with individual volunteering below. Volunteers can start as young as age 16.
We are excited for you to begin your volunteer journey with Operation Kindness. We are currently accepting volunteers ages 16 and up.
We are always looking for volunteers of all backgrounds and experience levels.
Once your application and fee are completed, your account will be processed by our volunteer team.
Once accepted, you will receive an email on further training and your first steps in volunteering with us.
Volunteers are required to complete at least 4 hours a month to remain active.
To keep the shelter running smoothly for the hundreds of pets in our care, there's a variety of daily tasks that volunteers can help with. These tasks include cleaning kennels, laundry, dishes, shredding paper for puppy pens, bathing dogs, cleaning and distributing toys, walking dogs, socializing cats/kittens and more.
Beyond the general tasks around the shelter, volunteers also receive additional training to help in specific roles.

Family Day volunteering is an interactive opportunity for families to participate in fulfilling volunteer duties with Operation Kindness. During Family Day volunteer opportunities, volunteers will be provided a behind-the-scenes tour of the shelter, hands-on volunteer activities, and ending the day with animal interactions.
Family Days will be focused on duties from kennel care support (dishes, laundry, sanitation), animal enrichment, adoption greeting, and basic sanitation aid. All volunteer activities are non-animal handling.
Family Days start at 9 AM and end at 2 PM.
(Volunteers will break for a 45-minute lunch. Please bring a packed lunch.)
Cost is $30 per family of 4, each additional child participant is $10.
Upcoming Family Day dates:
Saturday, Feb. 18
Saturday, Mar. 18
Saturday, Apr. 15
Saturday, May 20

Corporate Group Volunteer Opportunities
Volunteering at our adoption center is an employee favorite! The Corporate Group Volunteering Program gives the maximum benefit to the animals and your employee team.
All volunteer group experiences start with welcoming remarks from our team and a behind-the-scenes tour of Operation Kindness. Then, your team will participate in a volunteer project and gets hands-on time with the dogs and cats. Groups of up to 40 people can be accommodated.
With a corporate group fee of $500 or more, a group of up to 20 participants can volunteer. With a corporate group fee of $1,000 or more, a group of 21-40 participants can volunteer.
A minimum of 60 days notice is required.
Note: The fee is waived for registered 501(c)(3) non-profit organizations.
To schedule a group volunteer opportunity, please complete this form.

Court-Ordered Community Service
Operation Kindness provides court-ordered community service opportunities. These opportunities range from general sanitation, shelter maintenance, and shelter-related activities such as dishes and laundry. All community service activities are non-animal handling related.
All opportunities must be pre-scheduled through our Volunteer Software. Individuals interested in completing community service with our organization must meet the following qualifications:
Must be 16 years or older
Must complete Community Service Orientation
Not seeking community services hours for any violent misdemeanors or felonies