What should you consider before adopting a pet from Operation Kindness? Our role is to help find the best match for you and the animals in our care.
The adoption questionnaire helps us learn about you and your lifestyle so that we can recommend pets that will fit into your life. You can complete it online or in the shelter.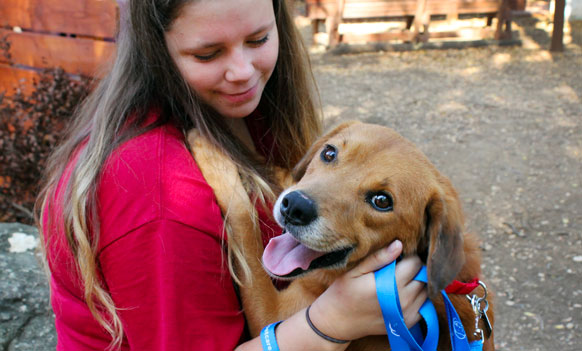 How do I get to know the pets at Operation Kindness?
During your visit, our team will introduce you to each pet you are considering for one-on-one time.
Whether in our landscaped backyard or screened cat porch, we encourage you to spend time getting to know each other to ensure a great match.
How long does the adoption process take?
Once you've been matched with your perfect pet, we recommend allocating up to 1 hour for the adoption counseling process.
Our team will review any medical conditions or behavioral needs of your new pets, tips on transitioning to your home, and your adoption paperwork. Most animals are ready to go home with you the same day!
What is included with my adoption?
Spay/neuter before adoption
Age-appropriate core vaccinations
Microchip and 1 year of registration
Pet Supplies Plus coupon for 25% off your entire purchase
Can I bring my current dog for a meet & greet?
Absolutely! Neutral introductions are the best way to see if your prospective dog will be compatible with your current dog(s). Our staff will help with a safe introduction to see if they will get along. Just bring proof of rabies and DHPP vaccinations to the meet and greet.
How do I know if a specific animal is available?
All pets listed on our website are up to date in real-time. As an animal is adopted, their profile is immediately removed from the site. If you still see a pet listed, that means that they are still available! You can also always give us a call at (972) 418-7297.
Can I reserve or hold an animal?
Our goal is to get homeless pets paired with the perfect new family as quickly as possible. For that reason, animals cannot be held or reserved. Adoptions are first come, first served.
What do I need to bring when adopting a pet?
Please bring your driver's license or government-issued ID and your payment for the adoption fee. For dogs, we will provide a collar and leash. For cats, we will provide a temporary cardboard carrier for transportation home. You can be extra prepared by setting up your home with food and water bowls, a bed, toys, and a litter box for cats.